The secret is proper tooth brushing
How healthy someone's teeth are is largely determined by correct brushing, oral care and dietary habits.
Contrary to popular belief, heredity, pregnancy and breastfeeding play only a minor role. The main cause of tooth decay is the proliferation of plaque-feeding bacteria, which create an acidic environment that can cause cavities to form in the enamel covering the tooth surface.
Brushing twice or three times a day is not in itself sufficient to have caries-free teeth. In addition to frequency, the quality of teeth cleaning is also very important. To ensure that all tooth surfaces are reached and thoroughly cleaned, it is important to learn the correct brushing steps as early in life as possible. It's best to learn these as a child, but it's never too late to begin.
Our tooth brushing training is designed for our patients and families who want to brush and care for their teeth correctly every day, to keep their teeth healthy and to maintain their health. During the training, we use a giant tooth model to demonstrate the steps of proper brushing, with special attention to critical, hard-to-reach areas. Patients can try out the newly acquired knowledge straight away. This is done with the aid of the so-called plaque disclosing procedure. This involves chewing a plaque disclosing tablet to reveal plaque on the tooth surface, as plaque is difficult to see. The patient can look in a mirror to identify areas where brushing has been less effective. After this, the results of plaque disclosing will be re-evaluated after correct brushing performed in the way the patient has learned. This method makes it easy to improve the effectiveness of individual tooth cleaning. After learning the basics, we emphasise the importance of interdental cleaning, and the technique is demonstrated first on a tooth model and then in the mouth, tailored to the individual. At the end of the tooth brushing training, our patients receive the toothbrush, toothpaste and interdental brush they have used as a gift.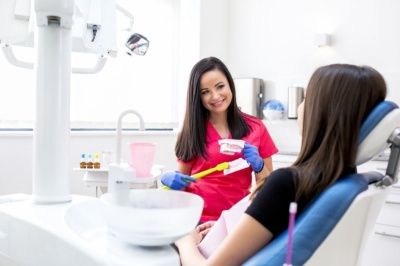 Our Dentists

Booking an appointment

Booking an appointment